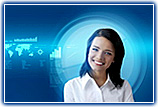 About Cyber-Translations
Cyber-Translations is a proven leader in translation services, offering our clients a hybrid and diversified solution of full translation capabilities, flexibility and cost-efficiency. In the past few years, we have completed thousands of translation projects of any kind, helping our clients achieve global reach to their customer base.
Cyber-Translations - Pioneering the Technological Translation Process
We operate our innovative translation services on a cutting edge infrastructure that utilizes highly sophisticated technology and tools to help us complete our clients' projects with both small and large scale projects. Our online and digital platform makes submitting requests and retrieving completed results simple and time efficient.
For years, Cyber-Translations has been widely recognized in this industry for instituting a digital approach to the use of contemporary technology to help eliminate repetitious processes and expedite the entire course of translation. Our state-of-the-art resources have provided us with the opportunity to give our clients' the best experience imaginable.
Our Competent and Proficient Translation Team
Thanks to the development of our highly skilled and educated team of 3000+ translators, Cyber-Translations is able to offer our clients a multitude of translation services in over 200 languages. Our clients will only receive a completed project that is culturally and grammatically appropriate for their target market.
With a team of accomplished and well-versed managers and translators, Cyber-Translations is one of the largest providers of translation services of all sorts. Because of our attention to quality, accuracy, efficiency and cutting-edge technology, we have been able to continuously assist our clients in systemizing the entire translation process.
No matter what industry you come from or what language you need translated, Cyber-Translations is your online leader. Our team is ready any time of the day or night to take your call or respond via our website. Trust your next translation endeavour to the industry's leader in translation services to Cyber-Translations!
Cyber-translations.com is the online translation choice for every industry and any language — achieving digital perfection with human innovation!