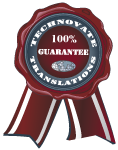 Cyber-Translations Order Guarantee
Managing multiple translation projects and customizing them to each clients is easy for Cyber-Translations. We make the entire translation process easy, time-efficient and affordable.
Take advantage of the following guarantees:
State-of-the-Art Technology
Cyber-Translations is a leader in the translation industry thanks in part to our cutting edge technology and resources that allows us to effectively streamline the entire translation process. We work on innovative web-based technological platforms that helps you interact with us at your convenience, any time of the day, and from any part of the world. The end result of our digitally automated system is incredible time and cost savings for you.
Highly Educated and Skilled Translators
Our roster of 3000+ translators speak over 200 languages. The translator assigned to your particular project is native to that language, and is specific to that industry. As such, not only will your translator be able to accurately translate your document, they will have the knowledge necessary to understand the terminology specific to that industry.
Quality Assurance
Once your translation project is complete, it goes through a rigorous quality assurance process that ensures the highest level of accuracy. Any changes that need to be made to your project are done immediately before being promptly delivered to you.
24 Hour Customer Service and Support
In order to provide our clients with impeccable service, we are available for support around the clock. No matter where you are or what time of the day it is, we are always here for support.
Competitive Pricing
Cyber-Translations offers affordable prices to our clients, but this doesn't mean you are sacrificing good quality for cheap prices. Our web-based innovative tools and resources allows us to keep our costs low and make the entire process extremely efficient, which means you get both high quality services at affordable prices.
Make Cyber-Translations your first choice for all your translation needs!
Cyber-translations.com is the online translation choice for every industry and any language — achieving digital perfection with human innovation!