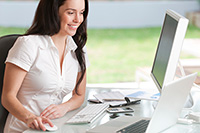 Translation Project Desktop Publishing Services
Technovate Translations provides a comprehensive suite of desktop publishing services to help your documents look their best. Studies have shown that as little as 10% of human communication occurs through the words we say. The rest is communicated nonverbally, and the visual look and feel of your documents says a lot about who you are and what you do. Choosing elements such as fonts, spacing, and colors can convey messages as diverse as fun and excitement, stability, or trustworthiness.
By contrast, the wrong choices can lead to disaster. For example, a Florida-based movie rental store named "Megaflicks" cast their logo in all caps in a slightly curved san serif font that had the terrible misfortune of running the L and I together, turning their family-friendly store into a seemingly adult emporium.
Technovate Translations is able to format your final translation into various programs to give you the finished product.
Makes you look professional
Conveys your business's tone and point of view visually
Appeals to the audience aesthetically
Supports your message with appropriate design options
Technovate Translations can provide you with a powerful array of desktop publishing solutions designed with a professional eye by an experienced team who knows exactly how to get the results you need. We work in all the major formats:
Adobe Illustrator
Autocad
PowerPoint
And more!
Our desktop publishing services come in very handy, especially when dealing with foreign characters in different languages. We provide professional services for every budget. Make your documents, websites, packaging and other products work for you with powerful design and professional flair. Talk to one of Technovate Translation Representatives today at 1-800-870-0689 or contact us by email at support@cyber-translations.com
Cyber-translations.com is the online translation choice for every industry and any language — achieving digital perfection with human innovation!