Document Translation Made Simple
Considering the global effect on just about every aspect of our world, businesses and individuals alike are being increasingly obligated to translate documentation into various languages. Such document translation needs to be done quickly, accurately and affordably.
Many types of documents enter the translation process, including: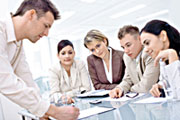 Business materials
Product manuals
Corporate communications
Legal documents
Technical documents
Birth certificates
Medical documents
Financial documents
Having these documents translated with incredible precision and commitment to specific deadlines is crucial, which is why it is essential that these documents be handled by document translations professionals who have the experience, resources and technology necessary to deliver quality results in a timely fashion.
When you need expert document translation services, Cyber-Translations is the language translating partner you need!
Cyber-Translations Handles Each Document Translation Project With Care!
At Cyber-Translations, we take our work - and your project - very seriously. Once we receive your request to have a document translated, we will take the following steps to ensure that it is handled appropriately for extremely accurate and prompt completion:
We will determine the type of project entailed, and assign it to the appropriate translator who is fluent in the language requested, and has a background in the field involved in the document;
Once the document has been translated, it will be looked over thoroughly by an experienced quality control editor;
Your translated document will be delivered promptly!
Urgent Document Translation Required? No Problem!
The experts at Cyber-Translations are more than capable of handling time-sensitive projects. If you have a translation project that needs to be dealt with immediately, we have thousands of translators standing by to take it on for you!
Guaranteed Quick, Easy Document Translation Services!
With Cyber-Translations, we guarantee you the following when you entrust us with your documents for translation:
Low Prices
Complete Accuracy
Highly Competent Translators
Quick Turnaround
Secure Document Upload
Full Service Translation Agency
24 Hour Customer Assistance
Choose the industry leader in document translation services - call Cyber-Translations today!
Cyber-translations.com is the online translation choice for every industry and any language — achieving digital perfection with human innovation!