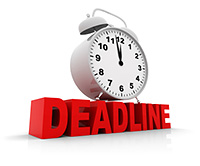 Order Emergency Translation Services
In the fast paced world of business, every second counts. Today's world works within a much smaller microscope than 20 years ago yet demands systems that account for every situation in markets that are literally worlds apart. This digital age forces companies to work at lightening quick speed and companies may need emergency translation services.
You've come to the right place – we're the quickest in the business and deliver an extremely high quality product!
How are we able to do this? Simple. Our company starts right after you order your translation, there is no line up, whether you order it at the beginning of the business day or after-hours. We don't delay or put it in a queue. Cyber-Translations.com is also a lean translation service provider that operates with the advantages of large structured systems which enable us to produce accurate translations faster than old world translation services.
Urgent Translations for All Your Business Needs
Step 1: Assessment of Project

Assessment of Project – This is where we save the client time, we've already assessed the difficulty of the project and have translator(s) lined up before the client orders, this saves the client a lot of time.

Step 2: Client Orders

Client Orders – This can be from the simple OK from a regular client or a signed e-contract clients can sign from even their mobile phones.

Step 3: Project Started and Completed

Project Started and Completed – The translator(s) work in unison if a larger project or smaller project just one but together with the project manager and the client should there be questions.

Step 4: Quality Control Review

Quality Control – Once uploaded one of our reviewers re-checks the document before uploading to client account.

Step 5: Client Submission

Client Submission – Client gets their translation and big sigh of relief
Note:
Our translators and Account Managers are our unsung heroes who understand that when they work with our company the client comes first and the clients success is their success. When receiving an emergency translation, translators and staff really love it when they get testimonials or notes from clients letting us know the little bit of difference we've made to make their life easier.
Cyber-Translations – Innovative Technology at Your Service
At Cyber-Translations, we specialize in taking on the most urgent translation project and completing it with complete accuracy and competency. What helps to put us above other translation services is our cyber friendly technological platform that streamlines the entire translation process from start to finish.
Our software makes every step of the procedure highly efficient. Our leading-edge technology deals with tasks including:
Generating incoming requests
Quoting
Dispersing projects to the appropriate translation team
Delivering completed projects on time
Regardless of your deadline, the automated system that Cyber-Translations has in place will help us deliver your project on time.
Fast Turnaround Without Compromising Quality
Our entire team works around the clock, according to your schedule to meet your deadline. We don't sacrifice quality at any time, Cyber-Translations is seasoned in delivering high quality translation projects quickly and affordably. At Cyber-Translations, we get it right every time. Contact us today and have your urgent project translated within hours! Cyber-Translations is the translation service of choice for thousands of corporations in the World – Order your emergency project Now!!!
Cyber-translations.com is the online translation choice for every industry and any language — achieving digital perfection with human innovation!