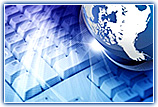 Our Services
Cyber-Translations is an online service that is internet-based to help streamline the translation process and make it simple and efficient for you to send us your request, and for us to quickly deliver your results. Our digital platform allows us to maintain optimal contact with both our translators and our clients, which makes the entire translation process that much easier and user-friendly.
Our services are far reaching - there is no translation project that we can't tackle. We are fully capable and determined to get your documents, websites and other forms of communications translated into one of over 200 languages as accurately and promptly as possible. Our services include, but are not limited to, the following:
This list is not exhaustive in the least - if the specific translation service you are looking for doesn't appear above, contact one of our customer service representatives who are available around the clock. We'll be happy to assist you in tackling any type of translation need you may have, no matter how obscure.
Contact Cyber-Translations for a free customized quote today!
Cyber-translations.com is the online translation choice for every industry and any language — achieving digital perfection with human innovation!