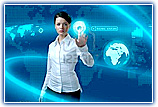 Testimonials
At Cyber-Translations.com we strive to provide every one of our clients with superior customer service and the highest quality translation possible. Our Translation Specialists work with clients and translators through every step of the translation process - assuring the accuracy, efficiency, and quality customers have come to expect from Cyber-Translations.com! Below are some testimonials from clients ... scroll down to see what they're saying about us (more will be posted soon) !
Have a project that requires quality translation or interpretation? Give us a call today at 1-800-870-0689. One of our friendly Translation Specialists will be more than happy to help you find the best solution for your translation needs.
---

"I have been very pleased with the service and people I have dealt with. I will continue to use your service for any projects that I have in the future."
– ADR Chambers

"Thank you very much. We are very pleased with the service and you are very courteous and professional. Best regards,"
– Biotest Pharmaceuticals Corporation

"Thank-you for your assistance in setting up this service. I will keep Technovate Translations in mind for future use should the need arise."
– Carl's Jr. Director, International Franchise Services CKE Restaurants, Inc

"Yes, absolutely! The service was efficient, courteous and met my expectations in every way."
– Hotel Manager - Sheraton Los Angeles Downtown Hotel

"Thanks so much for your prompt service - the client interview went very well with the interpreter. Much appreciated.""
– Vancouver Coastal Health

"I would refer Technovate Translations to anyone in need of translation services. Their response time to our price quote was very fast and the work that we wanted done was completed just as quickly."
– Tamwood International

"We are very pleased with the speed and efficiency of translations from Technovate and would certainly recommend them to anyone seeking a professional and accessible translation service."
– Canadian Consortium on Human Security

"Thanks Raphy! Your translator is fast! Thanks for the great work on this."
– Graphic & Multimedia Designer, TELoIP, Inc.

"The overall translation was very well done. Again thank you very much for the quick turnaround and quality."
– Bevertec

"The service was prompt and professional and an urgent translation was delivered within a very tight time frame."
– Cassels Brock

"We received the translation. Thank you for your assistance. Your company was very efficient and thorough. We will contact you for future translation needs."
– Keis George LLP

"I received the translated document today and took a quick look at it and it looks great. I will go over it in more detail later today, but from what I saw I think your team did an excellent job. Thank you for turning this around so quickly. I will make sure to keep you in mind for our future translation needs. Thanks again,"
– HOWREY LLP

"We found Technovate Translation to be professional and business-like in our dealings with them."
– Scouts Canada

"It was very professional. I can refer Technovate Translations to whoever needs translation.!"
– Baycor Fibre

"Daniel was extremely helpful and attentive to some of the concerns I had with the translation. He was very quick to return my calls and provided me with excellent overall service. I will definitely consider using the service at my work place should the need arise. We often need translations and now I know where to go."
– Private Individual

"Boundless than to you for such an impressive and professional translation of these complex and legal documents! We are in awe of your work!!! Thanks you so much!!!"
– Private Individual

"Great! Efficient! Really pushed him and he got it all done. It was wonderful."
– Private Individual

"I needed my birth certificate translated as quickly as possible and on top of that on a weekend. They managed to get it to me by Sunday, sooner then I even expected. Along the way they were extremely helpful and understanding. One of the best displays of customer service I've experienced. Thanks Daniel!"
– Private Individual

"Thank you for an exceptionally speedy, quality experience! When we called this morning and left a message requesting urgent translations of documents, we were immediately impressed by how quickly you returned our call and how flexible you were in handling our queries and concerns. Enough said: we first spoke at 9:30am, we sent documents at 10:30am, you called us immediately when documents were not received so we could remedy the problem quickly, and we received certified translations at 5:30pm. We could not have hoped for a better result to the panic state we were in this morning. Fast, professional, diligent – we will call your company for any future translations and we will recommend your company to all our friends!"
– Private Individual
Cyber-translations.com is the online translation choice for every industry and any language — achieving digital perfection with human innovation!